Street ponders 'what ifs' of new U.S. Ski Team training facilities
Double Olympic medalist says next generation of racers will benefit enormously
COPPER MOUNTAIN, Colo. -- Olympic ski-racing champion Picabo Street has memories of Vail. It would be wrong to call them fond. Mixed is probably the best way to put it.
Street, already an Olympic silver medalist in the downhill at the time, came into World Cup action in Vail in 1996 as the face of her sport in America. The outspoken and always upbeat Street came over the lip on Pepi's Face – the steep, sometimes icy run right above the base of the Vista Bahn lift and the Los Amigos deck – and crashed in spectacular fashion.
The resulting knee injury was a blessing in only a couple of ways. First, she was a very short ride away from the world-famous Steadman Hawkins Clinic and U.S. Ski Team Dr. Richard Steadman. Second, it set up her legendary road to recovery that ended two years later with an Olympic gold medal in the super-G at Nagano, Japan, in 1998.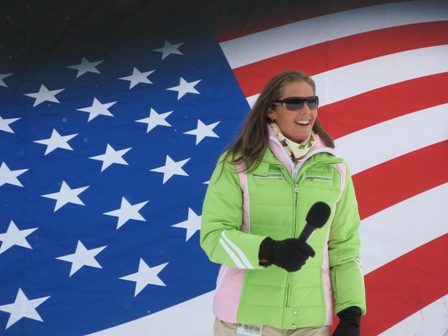 "The flight was great; the landing sucked," Street said of that Vail crash, laughing it off this week at Copper Mountain, where she took part in the ribbon cutting for the new U.S. Ski Team Speed Center at Copper.
Perhaps most significantly, a young racer named Lindsey Kildow was in Vail in the mid to late 1990s, training with Ski and Snowboard Club Vail, watching Street compete so tenaciously in World Cups and seeing the world's best on display at the 1999 World Alpine Ski Championships in Vail and Beaver Creek. Clearly, Street's resilience and drive rubbed off on Kildow, now known both as Lindsey Vonn and America's best ski racer of all time.
Street said the multi-million-dollar speed center at Copper Mountain, which Powdr Corp. partnered with the U.S. Ski Team to build, won't necessarily benefit the stable of elite, gold-medal athletes the most, although she would have loved such facilities during her heyday.
"Any time you spend a good amount of time committed to something in your life and you reach a certain amount of success with it, you will inevitably look back on it for the rest of your life and go, well, what if, what if, what if, what if?" Street said, looking back up at the only totally dialed, full-length downhill training course in the world this time of year.
"I haven't done a ton of that, but I've done it a bit," she added. "This presents the biggest 'what if' that I've come up against since I retired. What if I had had this kind of training to look forward to? Not just to benefit from in November, but to look forward to it as we planned our entire off-season. I could have spent so much more time training tech [slalom and giant slalom], focusing on it, knowing that I was going to get up to speed, no pun intended, here in November."
Meaning there will be much less of a scramble in the summer and early fall to find venues around the world that for much shorter stretches can duplicate speed-event [downhill and super-G] conditions, knowing that a full-length downhill course with 87 HKD snowguns, two miles of A-net and five miles of B-net will be exclusively available at Copper in early November.
Street doesn't think Vonn and Ted Ligety, both Olympic gold medalists who came out of the gate this World Cup season with giant slalom wins in Soelden, Austria, in October, took that approach, training more for GS and slalom and not worrying too much about speed.
"Lindsey's GS was coming," Street said of Vonn's first win in the discipline. "Ted and Lindsey have been pushing and knocking on that door, and Lindsey's hungry, she wants it all. She wants to win it all and she wants to go down as, 'Yeah, I pulled that one off, I pulled that one off,' and she doesn't want to have any what ifs when she'd done."
Instead, Street thinks young club racers and members of the development teams will benefit the most from the Copper facility. She's also very impressed with Ski and Snowboard Club Vail's new training facilities at Vail's Golden Peak, and the effort being put forth by the Vail Valley Foundation and Vail Resorts to build a new women's downhill course parallel to the men's Birds of Prey course at Beaver Creek. That track will be online when Vail and Beaver Creek host the 2015 World Alpine Ski Championships.
Street said it's all building major momentum for the sport in Colorado and around the United States, providing a long list of athletes with Olympic hardware to serve as inspiration for the next generation.
"There was no lull in Lindsey to me. There was no break in [young racers] having someone to shoot for and watch and be with, and so it's smart for Vail to try and accommodate that. The girls are like, 'Yeah, charge and we can go do it.'" But Street also admits the A Team racers will benefit hugely from all the new facilities.
U.S. Ski Team coach Alex Hoedlmoser says the Copper course most closely resembles the track at Lake Louise, Canada – a less technical, gliding type of downhill course. That's where the U.S. men will be Thanksgiving weekend while the women are racing in Aspen. Then the women head to Lake Louise and the men shift to Beaver Creek for the Birds of Prey races Dec. 2-4.
"When you're at the highest level of ski racing, it's not as much about time on snow as it is quality of time on snow. That's what we get from the U.S. Ski Team Speed Center," said Ligety, who wants to improve his results in speed event and make a run at the overall World Cup title.
He'll return to Beaver Creek with at least one win so far this season – and possibly more at Lake Louise -- as he looks to defend his Birds of Prey GS win from last season.
---

5 Comments on "Street ponders 'what ifs' of new U.S. Ski Team training facilities "