Vail-area Rep. Polis heartened by Interior Department report including Eagle County wilderness
U.S. Rep. Jared Polis Thursday said he hopes a new report from the Department of Interior highlighting 18 backcountry areas for conservation protection, including several in Colorado, will spark action by Congress "in spite of partisan gridlock elsewhere."
Polis noted that the report, produced by Deputy Interior Secretary David Hayes and U.S. Bureau of Land Management (BLM) Director Bob Abbey, singles out lands included in the Boulder Democrat's Eagle and Summit Counties Wilderness Preservation Act.
Polis painstakingly produced that legislation
from the controversial and much broader Hidden Gems proposal after months and months of public meetings in his 2nd Congressional District, which includes mountainous Eagle and Summit counties.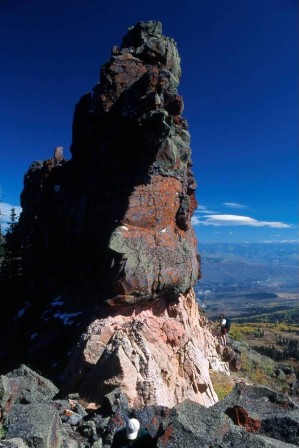 "In putting together this report, Secretary [Ken] Salazar has found common ground by focusing on wilderness and conservation lands that have bipartisan and local support," Polis said. "Conservation has a long history of bipartisanship, and the West has benefited greatly from it. It's my hope that today's report can form the foundation of a proposal that Congress can quickly get behind and pass, in spite of partisan gridlock elsewhere."
The study, which looks at 18 areas in nine states, is called the "Preliminary Report on BLM Lands Deserving Protection as National Conservation Areas, Wilderness or other Conservation Designations." It includes the Castle Peak area north of Eagle and near the Colorado River.
"Due to its mid-level elevation and plentiful precipitation, Castle Peak supports a wide variety of plants and wildlife," according to the Hidden Gems campaign. "In addition to beaver ponds, the area offers superb summer range for 400 elk and 1,000 deer. The area also has outstanding geologic, natural, scenic and recreational characteristics …."
Colorado Congresswoman Diana DeGette, a Denver Democrat, says Castle Peak, along with Browns Canyon, McKenna Peak and Bull Gulch, are four Colorado areas in the new Interior Department report that are proposed for protection in her Colorado Wilderness Act of 2011.
A much larger proposal than the Polis bill, DeGette's legislation would create 28 new wilderness areas and add land to three existing wilderness areas. In total, the DeGette bill would permanently protect nearly 700,000 acres of federal land. DeGette has been advocating additional wilderness protection in the state for more than a decade and lately has been sharply critical of Republican attempts to roll back wilderness protections.
She welcomed the Interior Department report on Thursday.
"Over the past 12 years, as I've worked on the Colorado Wilderness Act with citizens across the state, I've heard many different opinions, but those opinions are most often rooted in a set of shared state-wide values," DeGette said in a statement. "Coloradans want to preserve their history, their quality of life and their opportunities."
According to the Interior Department (DOI), the BLM manages more than 245 million acres of land nationwide, mostly in 12 western states. Of that total acreage, 8.7 million acres have been protected as wilderness, or about 3.5 percent. DOI lands see more than 400 million visits a year, with outdoor recreation responsible for 6.5 million jobs and $1 trillion a year in economic benefit.
"As we continue our push to responsibly expand oil, gas, coal, solar, wind, geothermal, and other resource development on public land, we also have a responsibility to expand the backcountry recreational and outdoor opportunities that generate billions of dollars in revenue for local economies across the West," BLM Director Bob Abbey said in a release.

---

4 Comments on "Vail-area Rep. Polis heartened by Interior Department report including Eagle County wilderness"