Vail voters re-elect Daly, Rogers, Kurz, Moffet
Conference center fund question passes in a landslide
In a municipal election with no truly divisive issues, Vail voters Tuesday re-elected two incumbent town council members and two past council members, including former Mayor Ludwig Kurz.
Incumbents Andy Daly and Margaret Rogers were the two top vote-getters, followed by Kurz and former council member Greg Moffet.
A ballot question dedicating conference center funds to town infrastructure improvements, Question 1, passed by an overwhelming margin of 801 votes to 122. Here are the unofficial Town of Vail election results:
Vail Town Council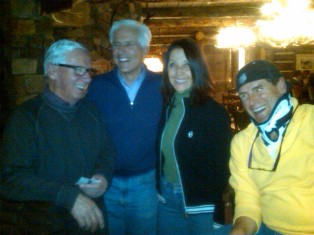 Andrew P. Daly* 644 votes four-year term ends 2015
Margaret Rogers* 573 votes four-year term ends 2015
Ludwig Kurz 535 votes four-year term ends 2015
Greg Moffet 529 votes two-year term ends 2013
Farrow Hitt 354 votes
Stephen Connolly 208 votes
Rayla J. Kundolf 165 votes
*Incumbent
Question No. 1
Yes 801 87 percent
No 122 13 percent
Without increasing taxes, shall the Town of Vail use the remainder of the one and one-half percent lodging tax revenues and one-half percent sales tax revenues collected from January 1, 2003 through December 31, 2005 to fund the following projects that will promote recreation, promote tourism and support the economy in the Town of Vail:
--Expansion and improvement of the clubhouse at the Vail Golf Course and Nordic Center, including multi-use community space;
--Field expansion and restroom renovation at the Ford Park Sports Complex; and
--Ford Amphitheater improvements, including outdoor seating and restroom improvements?
Approval of Question No. 1 brings closure to electorate decisions in 2002 and 2005 in which voters approved taxes to build and operate a conference center, then rejected a second tax question which caused the tax to be rescinded, leaving a balance in the fund that has grown to $9.4 million. Had the upcoming ballot question been defeated, the fund would have been refunded to a group similar to those who originally paid the tax, likely from reduced lodging taxes.
Voter Turnout
934 votes cast, 43 percent voter turnout of the 2,178 active voters. There were 223 who voted at the polls and 711 who used a permanent mail-in voter ballot or voted early.
The record turnout for a regular municipal election was set in 2002 when 1,772 voters took part to elect four town council members, approve taxes for construction of a conference center and rejected a four mill property tax increase.
Council Background
Per the Vail Town Charter, the three candidates receiving the highest number of votes, Daly, Rogers and Kurz, are elected to four-year terms, while the fourth highest vote getter, Moffet, is elected to a two-year term. The election fills the terms of four of the town's seven council positions. Those seats were held by the incumbent candidates Andy Daly and Margaret Rogers, plus Dick Cleveland, who did not run for re-election and Kim Newbury who was term-limited. Terms of the remaining council members, Kerry Donovan, Kevin Foley and Susie Tjossem run to November 2013.
Swearing-in ceremonies for the newly elected members will take place on Nov. 15 during an organizational meeting of the Vail Town Council as required by the town charter. At that time, the mayor and mayor pro tem will be selected. Each will serve two year terms.
---

1 Comment on "Vail voters re-elect Daly, Rogers, Kurz, Moffet"