Breckenridge to kick off 50th anniversary ski season on Friday
No snow in Vail Valley forecast until weekend
A weak snowstorm blew through the Vail Valley late Monday into Tuesday morning, depositing an inch or two of new snow, and the next system isn't expected to hit the state until this weekend.
That means Breckenridge, the next Colorado ski resort set to open for the 2011-12 season, won't have much in the way of new snow for opening day on Friday. But that's OK, because temperatures all week will be ideal for snowmaking efforts, especially at night.
And enough natural snow has fallen so far this fall that Breck will be in great early-season shape as it kicks off its
50th anniversary
. The first 1,111 snow riders on 11/11/11 will receive a free cupcake breakfast. Also on tap is commemorative 50th Anniversary Ale from Budweiser and free music from the Breck band Universally Famous Rocket Surgeons.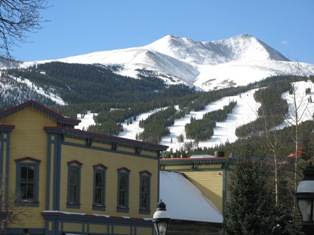 The opening of Breck will bring the total number of state ski resorts open for the season to six, joining Arapahoe Basin, Loveland, Keystone, Copper Mountain and Wolf Creek. Three of them – A-Basin, Keystone and Breck – are part of the Vail Resorts Epic Pass.
Next up is Winter Park on Saturday, Nov. 12, followed by Vail and Eldora on Friday, Nov. 18. A slew of other resorts open for Thanksgiving, including Beaver Creek on Wednesday, Nov. 23.
The big winner in the snow sweepstakes from the last storm was Wolf Creek, which picked up another 8 inches Monday night and now has a 45-inch base. Forecasters expect dry, sunny weather through Saturday, with another storm moving in Sunday and through the first part of next week.
"The next storm(s) will arrive Sunday-ish and last through Monday/Tuesday," reports opensnow.com. "It looks like next Tuesday the 15th could be the most powder-filled day of the next 10 days."
Prolonged good weather is good news for U.S. Ski Team athletes who continue to train at Vail and Copper Mountain. World Cup slalom races originally scheduled for Nov. 12-13 in Levi, Finland, have been rescheduled for Dec. 20-21 in Flachau, Austria, because of warm temperatures and a lack of snow in Finland.
That means gold-medal American athletes like Bode Miller, Ted Ligety, Julia Mancuso Vail's Lindsey Vonn can stay stateside and take advantage of excellent early-season conditions in Colorado.
The next World Cup races take the women to Aspen Nov. 26-27 and the men to Lake Louise, Canada, Nov. 25-27. Then the women go to Lake Louise and the men come to Beaver Creek for the famous Birds of Prey downhill Dec. 2-4.
---

1 Comment on "Breckenridge to kick off 50th anniversary ski season on Friday"