Vail starts snowmaking on Born Free, cautions hike-to snow riders to watch for equipment, obey closures
More snow on tap for Saturday, Monday
Vail snowmaking crews this week started blowing snow on Born Free trail, typically the first run open to the public each season. The trail is in the Lionshead area on Vail's front side, accessed by the Born Free Express (Chair 8).
Vail doesn't open to the public until Friday, Nov. 18, but crews have been taking advantage of recent natural snowfall and cold weather to get an early jump on prepping the mountain for opening-day snow riders.
U.S. Ski Team members, including Vail Olympian Lindsey Vonn and fellow gold medalists Bode Miller, Ted Ligety and Julia Mancuso, started training with Ski and Snowboard Club Vail athletes at Vail's Golden Peak on Wednesday. Snowmaking has been happening there for a couple of weeks.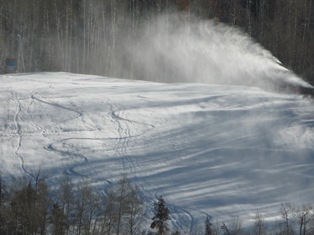 A succession of three significant winter storms the last two weeks has not only given snowmaking crews a jump on the season but also increased speculation that Vail will open with much more terrain than just Born Free.
However, resort officials say it's too soon to speculate on how much skiable acreage will be open in two weeks, although more natural snow just keeps upping the anticipation for a big opening day. A new system is headed into the state Friday.
That storm has now slowed down somewhat, and forecasters are calling for 4-8 inches starting early Saturday morning, lasting well into the day and possibly producing another 1-2 inches Saturday night. Then there's a second storm expected to bring another inch of snow Sunday night and 2-4 inches during the day Monday, according to www.opensnow.com.
Keystone and Copper Mountain open Friday, joining Arapahoe Basin and Loveland.
Some eager snow riders in Vail haven't been able to wait for opening day, skinning up and skiing the front side of Vail Mountain. Vail officials caution early-season hikers to be careful.
"Outdoor enthusiasts are encouraged to use public land for recreational activities and to be aware that Vail Mountain is under permit to Vail Associates by the US Forest Service," Vail spokeswoman Liz Biebl said in an email. "While enjoying Vail Mountain, guests must abide by restrictions and recommendations. The resort begins operations during the fall to prepare the slopes and trails for opening, including activities such as snowmaking and snowcat operations."
Biebl added that such work is the top priority for mountain operations crews before opening day.
"Areas in which these activities are taking place may be closed from the bottom of Vail Mountain with a posted 'closed"'sign to inform those hiking uphill," Biebl added. "When such closures exist, only authorized personnel are permitted in the area and guests must select an appropriate alternate route."
---

36 Comments on "Vail starts snowmaking on Born Free, cautions hike-to snow riders to watch for equipment, obey closures"