Colorado Parks and Wildlife offering reward in possible illegal moose shooting near Silverthorne
Colorado Parks and Wildlife officers are asking the public for assistance in locating a hunter who may have illegally killed a bull moose near Silverthorne on Oct. 22. Several people hiking along the Gore Range and Rock Creek/Pebble Creek Trail reported that they encountered a hunter who told them he had shot a bull moose by mistake, but the individual has yet to report the incident to wildlife officers.
The popular trail is approximately seven miles north of Silverthorne, and officers are asking anyone who may have witnessed the incident, or spoke to the hunter that day to call Shannon Schwab, Colorado Parks and Wildlife Officer in Summit County at 970-485-308. Callers wishing to remain anonymous can contact Operation Game Thief toll-free at 1-877-265-6648. Operation Game Thief offers a reward if a tip leads to a citation.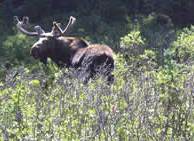 "The hikers told us that the hunter confessed to them, but he has yet to call us," said Schwab. "We have a description, we have witnesses, we have items that this person left behind and we're making every effort to find him, but it would be better for him if he turns himself in."
Schwab says that wildlife managers understand that accidents can happen and officers will take prompt reporting into consideration when assessing fines. It is a hunter's responsibility to identify their target and Schwab says hunters have an ethical responsibility to notify authorities as soon as possible if they make a mistake in the field.
"We would like to hear from this person, or from anyone else who knows who he is," said Schwab.
Hunting season is now in full swing throughout Colorado. Although most hunters have been safe and careful in the field, Colorado Parks and Wildlife officers are reporting that accidental moose kills continue to occur despite a concerted educational effort by the agency.
So far this year, northwest region wildlife managers have investigated nine possible accidental moose kills, with seven of these incidents remaining unsolved to date. They also report an unexpected increase in accidental mule deer kills by hunters holding elk licenses.
More than 300,000 hunting licenses are sold in Colorado each year and mistaken kills are infrequent, however those mistakes can be prevented if hunters take the time to identify their target before pulling the trigger.
In the last few years, public information campaigns focusing on helping hunters identify the differences between elk and moose has included personal contact by wildlife officers, mailing thousands of postcards to hunters, and recruiting volunteers to hand deliver flyers to hunter's camps.
The literature informs hunters that although the animals are similar, there are stark differences that a hunter should be able to recognize.
Elk travel in herds, have branched antlers, pointed snouts and are easily spooked. Moose usually travel alone, or in small groups, have palmated antlers, bulbous noses, and do not spook easily. In fact, hunters are warned that moose can attack if they feel threatened. In addition, moose fur is dark brown, while elk fur is a lighter brown, but is darker at the head and rump.
Northwest Regional Manager Ron Velarde says that if hunters would remember to follow the standard rules taught at every hunter education course, there would likely be fewer accidental kills.
"We continuously remind hunters to not pull the trigger unless they are 100 percent sure of their target," he said. "Most hunters follow this simple rule, but every year it seems there are too many that do not, and this carelessness results in the needless deaths of moose."
---

1 Comment on "Colorado Parks and Wildlife offering reward in possible illegal moose shooting near Silverthorne"