Guster's Gardner brings green musical ethic back to Vail Snow Daze
Dec. shows to feature return of Yukon Kornelius, first Vail appearance of Jakob Dylan
If there's any industry as environmentally conflicted as the Colorado ski business (towering luxury hotels with sidewalk snowmelt systems but still desperately dependent on cold and snow), it's the music industry (green-minded musicians arriving on gas-guzzling tour buses).
Adam Gardner of Guster is out to impact the carbon footprint of both industries this weekend when he brings his Reverb music-industry-greening organization to Vail for the annual
Snow Daze music festival
, which officially kicks off the new ski season Dec. 5-11.
An avid snow rider, Gardner will play a free show with Guster on Dec. 8 and then on Dec. 10 play a free show with the super-group Yukon Kornelius – named for a character in the classic animated TV special "Rudolph the Red-Nosed Reindeer." The group is made up of Gardner, Ed Robertson of Barenaked Ladies, Stefan Lessard of Dave Matthews Band and Spymob's Eric Fawcett. Jakob Dylan and his band will play a free show in between on Dec. 9.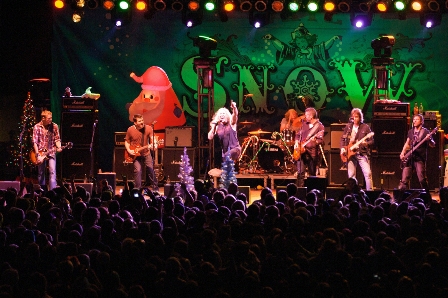 "The whole thing with Yukon Kornelius is it's just a bunch of friends getting together to ski and play a little music and have fun, and that's the biggest reason why we do it every year," Gardner told Real Vail in 2009, the first time Yukon Kornelius played Snow Daze.
"We all enjoy skiing and riding, and so the music piece is an excuse to bring us all together, but it's also really nice to have that environmental element there. Obviously, Guster and Dave Matthews Band and Barenaked Ladies are regular Reverb partners. We have the passion for the environment in common, as well as skiing and riding and playing music."
Gardner and his wife, Lauren Sullivan, started Reverb in 2004 with a Barenaked Ladies and Alanis Morissette tour, and the nonprofit has "greened" more than 80 major concert tours – from Jack Johnson to Sheryl Crow – since then.
More than just consultants, Reverb actually staffs shows to set up everything from recycling to carpooling to biodiesel buses to eco-friendly merchandise and organic food to purchasing carbon offsets to manning an Eco Village for local environmental groups to reach out to music fans.
Gardner said it all started with his wife.
"She's been an environmentalist for as long as I've been in rock and roll, which is close to 20 years now, and we decided to bring our two worlds together, because I was living one way with her at home and then it was a stark difference when we were on the road," Gardner said.
"You'd come to a concert and everybody drove there in their own cars and there's a big plastic wasteland at the end of the night and we got there in our tour bus that guzzled diesel and it was like, 'God, this is terrible, how do we do something about this?'"
Likeminded musicians and friends quickly signed on, Gardner said, starting with Robertson of Barenaked Ladies. Snow Daze is also part of the IZSTYLE Winter Tour, formed by Dave Matthews Band's Lessard to showcase his passion for snow sports and the environment.
Lessard, in fact, is mostly responsible for the formation of Yukon Kornelius. He called up his friends with the offer to put a band together to appear in the 2008 Warren Miller ski movie, "Children of Winter," part of which was filmed in Crested Butte.
But if fans make it up to Vail for the free concerts – punctuated nicely by a timely blast of early season snow this week – they shouldn't expect Bono-style sermons at the microphone.
"As far as the artists, I think the way we make [environmentalism] work really well is that they're just excited about it, they're enthusiasts and their only job is to spread that enthusiasm and not preach about it," Gardner said.
Editor's note: A version of this story first ran in December of 2009 when Yukon Kornelius first played Vail Snow Daze.
---

4 Comments on "Guster's Gardner brings green musical ethic back to Vail Snow Daze"