Winter storm slams Colorado ski country with wet snow
Loveland, Arapahoe Basin looking to open more ski terrain
A wet winter storm dumped 10 inches of new snow on Loveland Ski Area and 8 inches new at Arapahoe Basin overnight, with snow still falling hard at 6 a.m.
Vail received at least 8 inches, possibly more, although there is no official reporting since the resort doesn't open until Friday, Nov. 18. U.S. Ski Team athletes such as Lindsey Vonn and Bode Miller are slated to start training at Vail's Golden Peak Fall Training Arena a week from today and will participate in a public meet-and-greet in Vail on
Saturday, Nov. 5
.
As reported by Real Vail on Monday, Loveland planned to open more terrain regardless of snowfall totals from this storm. Arapahoe Basin is also weighing its options.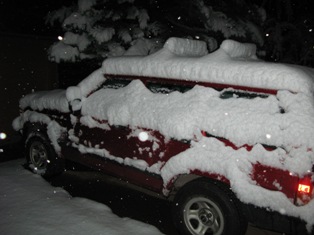 "It will usually take a few more weeks to open top-to-bottom [skiing] at this time of year, but this very well could push that process along," Arapahoe Basin spokeswoman Leigh Hierholzer said Tuesday. "We've heard reports from everything from 2 to 12 inches, so we will see..."
A-Basin COO and Vice President Alan Henceroth said on his blog Tuesday that the storm will likely make its biggest impact on snowmaking capacity.
"I am not sure we will get enough snow to open any trails with only natural snow," Henceroth said Tuesday. "Don't forget, it is still October."
Vail and Beaver Creek snowmaking crews have been at it for well over a week, especially in areas where World Cup race training or actual races will occur. Beaver Creek opens to the public on Wednesday, Nov. 23, and hosts a men's World Cup on its famous Birds of Prey run Dec. 2-4.
Beaver Creek Ski Patrol reported 13 inches at mid-mountain, according to a spokeswoman. The Colorado Powder Forecast is calling for another 2-4 inches today before the storm tapers off this evening. While temperatures will be cooler, the forecast is for warm and dry weather into next week, when another storm is possible mid-week.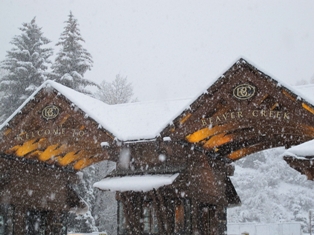 The big news in Vail is the announcement of Jakob Dylan as the headliner for the annual free music and snow riding celebration called Vail Snow Daze. Set for Dec. 5-11, the concert series includes Yukon Kornelius and Guster. Dylan plays Friday, Dec. 9.
---

11 Comments on "Winter storm slams Colorado ski country with wet snow"