As snowstorm moves into Vail Valley, U.S. Ski Team heads home to train at Vail, Copper
Loveland Ski Area set to open more terrain
The thermometer in Vail (pushing 60) has been seriously summer-like of late, but the headlines out of Europe (Vonn, Ligety win World Cup openers) have been screaming ski season. And now a storm is blowing into Colorado to confirm that concept.
Starting Tuesday evening, the two Colorado ski resorts fully open for the season – Loveland and Arapahoe Basin – will each receive 5-8 inches of new snow, with another 2-4 possible during the day Wednesday, according to
the Colorado Powder Forecast
.
That means snowmaking efforts at Vail and Beaver Creek – mostly being conducted on behalf of U.S. Ski Team athletes – will get a serious natural boost this week. Temperatures then look like they'll remain chilly into the weekend.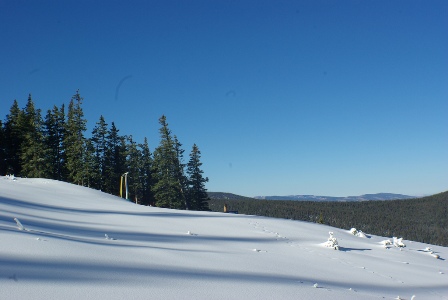 A week from Wednesday, Vail's Lindsey Vonn and Park City's Ted Ligety – both of whom won giant slalom races in Soelden, Austria, over the weekend – will likely be training at Vail's Golden Peak Fall Training Arena. World Cup racers will train slalom and giant slalom there at least until the next World Cup races (men's and women's slalom) Nov. 12-13 in Levi, Finland.
"They're all flying home now and will be on snow as early as possible in Colorado," U.S. Ski Team chief press officer Doug Haney said today via email. "Likely Nov. 2 will be day one at Vail, and Copper is still in flux."
Copper Mountain will debut its new speed training facility (downhill and super-G) as soon as there's enough coverage. This week's storm will no doubt help. Copper and Keystone will be the next two Colorado resorts to open for business to the public, cranking up their lifts on Friday, Nov. 4. Breckenridge will open Friday, Nov. 11, followed by Vail on Friday, Nov. 18, and Beaver Creek on Wednesday, Nov. 23.
This week's storm will pack a serious punch in the Front Range foothills, with more than a foot possible closer to Denver. Loveland officials expect to open more terrain in the next couple of days after opening a second run late last week.
"We did open Spillway late last week -- not a full top-to-bottom run but another trail with a little more pitch than our opening day run,"
Loveland Ski Area
spokesman John Sellers said. "And they are currently working on Richard's Run and should be able to open that with or without snow in the next few days, but the new snow will certainly help. Always excited for early season storms and it looks like it will be a good one."
Wolf Creek, which is open on weekends, won't get a huge boost from this week's storm because it appears headed more for the north-central mountains. That's good news in the Vail Valley, where crews started blowing snow on the Flyway section of Beaver Creek's Birds of Prey World Cup course last week.
After the combined men's and women's World Cup races in Levi, the two teams split up, and the men head to Lake Louise, Alberta, Canada, for downhill and super-G races Nov. 26-27. The women will be in Aspen for the Aspen Winternational that weekend, racing giant slalom and slalom.
Then the men come to Beaver Creek for downhill, super-G and giant slalom races Dec. 2-4, and the women head to Lake Louise for two downhills and a super-G.
And all of the top stars of the U.S. squad should be on hand
Saturday, Nov. 5
, for a meet-the-team event free and open to the public at Vail. Besides Ligety and Vonn, Bode Miller and Julia Mancuso should be in attendance.
All told, between those four, that's 89 World Cup wins and 11 Olympic medals (four gold).
---

32 Comments on "As snowstorm moves into Vail Valley, U.S. Ski Team heads home to train at Vail, Copper"