Vonn wins first career World Cup giant slalom
Vail racer now tied for fourth on all-time wins list
Vail's Lindsey Vonn today picked the toughest giant slalom course on the Audi FIS Alpine World Cup circuit for her first career win in the discipline. Her previous best in GS was third last season.
The Ski and Snowboard Club Vail product's American record 42 World Cup wins included victories in every other discipline — downhill, super giant slalom, slalom and combined —a but no GS wins until today on the Rettenbach Glacier in World Cup season opener in Soelden, Austria.
Julia Mancuso, of Squaw Valley, Calif., was 10th as the U.S. Ski Team debuted at its new European Training Base in Soelden.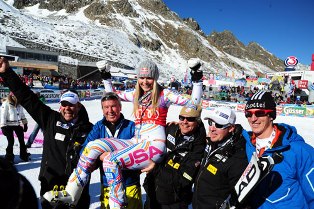 Vonn became just the fifth woman in World Cup history to win in all five disciplines, and she's the first American woman to win a Wold Cup GS since Julie Parisien in 1991.

Fourth after the first run, Vonn put in a stellar second run effort, notably on the lower section of the steep track down the face of the glacier.

"My tactic on both runs was to ski well on the pitch but not risk too much," Vonn said. "Then right after the pitch I wanted to carry as much speed as I could onto the flats through the finish."

The win tied Vonn for fourth on the all-time victory list with Anja Paerson of Sweden, who's still active but has been on the circuit two years longer than Vonn. The two racers are just four wins behind retired Austrian Renate Gotschl for third in career wins (46). Annemarie Moser-Proll is the all-time leader with 62 wins, and Vreni Schneider, of Switzerland, is second with 55 wins. Both greats retired years ago.

Vonn, a three-time overall World Cup winner who lost the title last season to friend and rival Maria Riesch, of Germany, trained extensively in the technical events of slalom and GS this off season in order to recapture her crown. Vonn has always been better in the speed events of downhill and super-G.

"I worked really hard in slalom and giant slalom this summer. I spent a month in New Zealand focusing on those two events and I know I made a lot of progress," Vonn said. "I'm glad it's showing up in the races, It's so positive for me to have this result today. I have a lot of momentum and confidence now going into the rest of the season."

Last season's winner in Soelden and the defending World Cup GS titleholder, Germany's Viktoria Rebensburg, came closest to catching Vonn, a scant .04 seconds back in second place. And Austrian speed-star Elisabeth Goergl finished four tenths behind in third.

Riesch — now Hoefl-Riesch after getting married — stood 12th after the first run, then completely fell apart in the second run as she struggled to keep her edges in the snow around several high-speed corners. She crossed the line in 24th.

Vonn had a less-than-ideal week leading up to the opening race. She fell on her hip during a training run last Saturday on an icy slope and stayed off her skis for the remainder of the week.

"I fell pretty hard training on Saturday and I didn't ski all week, so it wasn't great preparation for Soelden but I had done it before in Aspen a few years ago where I didn't ski before and just went to the race and did well," Vonn said. "I knew I could do it I just had to believe in my self and believe in my skiing."

Vail's Sarah Schleper, nursing a sore back, started the first run today but pulled out before the second run.
OFFICIAL RESULTS
Audi FIS Alpine World Cup
Soelden, Austria – Oct. 22, 2011
Women's Giant Slalom
1. Lindsey Vonn, Vail, CO, 1:14.18
2. Viktoria Rebensburg, Germany, 1:14.48
3. Elisabeth Goergl, Austria, 1:14.96
-
10. Julia Mancuso, Squaw Valley, CA, 1:14.99
DNF Sarah Schleper, Vail, CO

---

55 Comments on "Vonn wins first career World Cup giant slalom"