Energy issues bubble to surface in ongoing congressional redistricting trial
Vail-area congressman could pick up parts of Larimer County, lose some of Eagle County
The Vail Valley sits right on the edge of a U.S. congressional redistricting court battle that's been raging in Denver this week.
Several members of Colorado's congressional delegation have testified in Denver District Court recently about the ongoing redistricting process challenged by both Republicans and Democrats after the state legislature failed to come up with a plan last session.
Boulder Democrat Jared Polis, likely in no danger next year in his largely liberal 2nd Congressional District, said on Wednesday it might make sense to incorporate Larimer County and Colorado State University into his district, which already includes the University of Colorado in Boulder.
"Having CSU and CU in the same district will allow whoever the member is to focus their own resources and their staff resources more on higher education issues," Polis said, according to the Associated Press. Polis's district also extends west into the mountains to include Summit and Eagle counties, including the Vail Valley.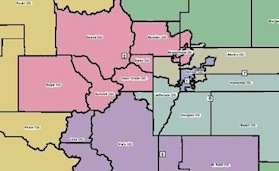 There has been significant political chatter in the mountain counties sitting on the border between Polis's CD2 and Republican Scott Tipton's 3rd Congressional District, which sprawls all the way from Democratic-leaning Pueblo on the southern Front Range to dead-red Grand Junction on the far Western Slope.
Some of the six maps being weighed in district court would split off parts of Eagle County and lump them in with Tipton's district. Oil and gas drilling and mining concerns on public lands are much bigger issues in CD3, which includes heavily drilled Garfield County just to the west of Polis's mountain enclave.
According to AP, Polis, responding to questioning from a Republican attorney about a Democratic plan to put rural and GOP-leaning Larimer County in his district, said that while the oil and gas drilling process called hydraulic fracturing may not be a major issue in Larimer County it is still a big issue for area residents.
Polis has championed legislation to disclose chemicals used in the fracking process as well as mandate better air quality standards. Still, fracking is far more of an issue in Tipton's CD3 than Polis's current CD2.
Tipton, who testified earlier in the week, said he prefers the current Republican plan of maintaining the status quo to the Democratic tactic of seeking more "competitive" districts. He pointed out that Democrats held five of the seven U.S. congressional seats in 2008 and that Republicans regained the majority with four of seven seats in 2010. Plus, he added that Democrat John Salazar held the seat before him.
"If your point is you want to be competitive, that's pretty doggone competitive, to be able to see those sorts of turns," Tipton told the AP.
Despite voting against climate change legislation, Salazar was targeted by oil and gas money in 2010. Tipton has made reinvigorating Western Slope mining and drilling a top priority, while simultaneously trying to dial back federal environmental regulations.
Democrat Ed Perlmutter also testified Wednesday, speaking in favor of the Democratic "competitiveness" plan. The Dem's map would take part of Aurora from Perlmutter's 7th Congressional District and put it in Republican Mike Coffman's 6th Congressional District.
"It forces people running for office to reach out a lot and to engage as many people as possible," Perlmutter said of districts more evenly split amongst Democrats, Republicans and independents. "You have to listen to all views."
The Democratic map generally seeks more competitive districts in CD3 and CD6 while giving up ground in Republican Cory Gardner's CD4. The Republican map seeks "minimum disruption."
Like Tipton's district, CD4 in northeastern Colorado includes some of the most heavily drilled areas of the state.
On-shore oil drilling in the United States is at its highest level since the Reagan administration in 1987, according to the Baker Hughes Rig Count – an industry tracking service. That same national boom is also occurring in Colorado, according to state officials, who point to a flurry of new drilling permits and active wells in Weld County, which is in Gardner's CD4.
Baker Hughes late last week reported the number of active oil rigs in the United States surged to 1,080 – the highest number since at least 1987. The boom is due mostly to unconventional oil fields in Colorado, North Dakota, Texas and other states, where hydraulic fracturing has opened up previously untapped oil reserves.
The Niobrara Shale Formation beneath Colorado's northern Front Range is yielding more and more lucrative oil as opposed to natural gas, sparking a boom that has Colorado's most-drilled county on pace to break its old record of 2,340 drilling permits issued in 2008. As of Sept. 9, 508 of those permits were for oil drilling.
"This year we're on a record rate," Colorado Oil and Gas Conservation Commission (COGCC) director David Neslin said, according to the Windsor Beacon. "We're on track to match or exceed the record."
And companies are utilizing all those permits.
"There are more active wells in Weld County than in any other county in the United States," Weld County Commissioner Sean Conway told the Beacon. "The tax revenues we've seen from the industry have been a real boon to our residents, businesses, special taxation districts and the state of Colorado."
While Weld County has kept its property taxes low, it has an above-average poverty level and unemployment rate. According to the U.S. Department of Agriculture's Economic Research Service, 14.8 percent of Weld County residents were at or below national poverty levels in 2009, compared to 12.6 percent of all of Colorado. The U.S. Bureau of Labor Statistics put Weld County's unemployment rate at 10.2 percent in 2010, compared to 8.9 in Colorado overall.
According to the Greeley Tribune, Weld County's unemployment rate earlier this year was the third highest among the state's seven metropolitan areas, and the poverty rates for children in Greeley doubled in the previous decade to the second highest level among the state's largest cities and counties.
As the U.S. congressman who represents Weld County, Gardner has been a relentless champion of increasing domestic oil and gas production, introducing several bills aimed at rolling back federal regulations many GOP members claim have curtailed domestic drilling and cost American jobs.
But with oil and gas drilling at an all-time high around the country, many conservation groups are questioning the wisdom of rolling back environmental regulations.
The ongoing redistricting trial is slated to run through the end of the week, with the judge's decision expected by December. The redistricting process is conducted every 10 years to reflect new U.S. Census population data.

---

65 Comments on "Energy issues bubble to surface in ongoing congressional redistricting trial"