Udall's ski area summer activities bill finally passes both houses of Congress
There isn't much consensus between Democrats and Republicans these days but lawmakers from both sides of the aisle agree that ski areas should be able to expand the number of activities they offer in the summer.
The U.S. Senate unanimously passed the
Ski Area Recreational
Opportunity Enhancement Act
late Tuesday, two weeks after the House of Representatives approved the bill by a vote of 394-0. The bill will make it easier for ski resorts on federal land to receive permits for activities other than skiing. It is expected to boost mountain economies in the summer with the expansion of bike trails, Frisbee golf courses, zip-lines, rope courses and more. Those activities already take place at many of the nation's ski resorts but obtaining permission requires more red tape than officials believe is warranted.
Sen. Mark Udall, D-Colo., has long advocated for such legislation. He first introduced the bill as a member of the House in 2008 but saw it stall amid partisan bickering over unrelated matters.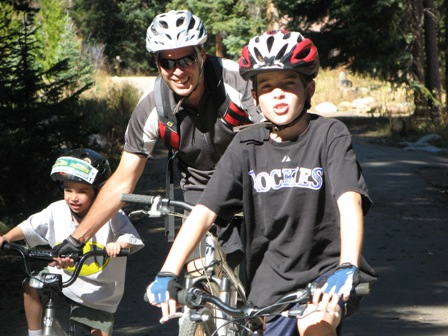 "It took a lot of pushing over two years, but I'm thrilled to report that the ski areas bill is now headed to the President's desk to be signed into law," Udall said in a statement his office sent to The Colorado Independent. "This is a great win for Colorado's mountain towns – with a simple clarification to the law, we're helping ski towns and resorts create hundreds of jobs and bolster communities during the shoulder seasons. I'm extremely grateful to my bipartisan partners in the House and Senate who backed this legislation even while it was blocked in the Senate by partisan wrangling over unrelated issues. I hope this is a positive sign that we can continue to work together on behalf of Coloradans – and all Americans — on common-sense legislation that will create jobs and strengthen our economy."
Ski resort operators hailed Tuesday's passage as "a major milestone" that will allow their businesses to offer appropriate, year-round recreation in the 13 states where the bill will make an impact.
"The bill will allow ski resorts to add new jobs during the summer and will help increase employment in rural mountain communities across the country. This opens up new opportunities for the entire ski industry," said Rob Katz, chairman and chief executive officer of Vail Resorts. "We hope the Forest Service will act quickly to craft regulations that allow for the full realization of the benefits of this bill, while ensuring that we protect the spectacular natural environments which serve as the backdrops for mountain resorts. We look forward to expanding our partnership with the USFS to create new recreational opportunities for kids and families that encourage engagement in outdoor activities."
---

62 Comments on "Udall's ski area summer activities bill finally passes both houses of Congress"