Udall, Bennet look to rein in oil and gas drilling in Thompson Creek Divide area
Carbondale's denizens shouldn't have to lie down in front of bulldozers any time soon.


Efforts to drill for oil and gas in Thompson Divide have been met with fierce opposition
from residents and leaders in Pitkin County — so much so that the executive director of the Wilderness Workshop previously told The Colorado Independent that his neighbors in Carbondale say things like, "Over my dead body," and "Just tell me when it's time to lie in front of the bulldozers.'"
Then last month, Pitkin County Commissioner George Newman flew to Washington, D.C., to meet with Colorado's congressional leadership and urge them to stave off drilling in the Thompson Divide area, which consists of 221,500 acres spread out over Pitkin, Gunnison, Garfield, Mesa and Delta counties. There are as many as 81 leases in the area; half of them on terrain that is currently roadless.
Most pressing is Houston-based SG Interests recent proposal to bundle federal lands where it holds leases into a specially designated unit. If the Bureau of Land Management were to approve the unit, the company's leases that are set to expire in 2013 would essentially be extended and drilling could follow on a 32,000-acre parcel of public land in Thompson Divide. The parcel, which is mostly under the surface jurisdiction of the Forest Service, is mostly located in Pitkin and Garfield counties.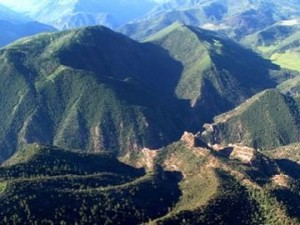 U.S. Sens. Michael Bennet and Mark Udall announced today that they have sent a letter to Agriculture Secretary Tom Vilsack and Interior Secretary Ken Salazar calling for "robust and meaningful" stakeholder input before the Bureau of Land Management makes a decision on the designation.
"The commissioners of Pitkin County and other local stakeholders argue that the unitization proposal, if granted at this time, may undermine years of discussions by local governments and leaseholders to reach a long-term agreement governing mineral production and conservation of important public lands in this area. Conversely, some of the affected leaseholders argue that promptly granting the unitization request would be the most efficient way to extract the resource in an environmentally-protective manner," the senators wrote in their letter. "After further discussions between parties, it may well be that a viable, consensus-based development plan for the area may emerge. Our intent, therefore, is not to preclude eventual consideration of such an option. However, given the lack of current local consensus, we believe it is very difficult to gauge if unitization is presently in the public interest."
Laurie Stevens, assistant to the Thompson Divide Coalition board of directors, said her grassroots group of environmentalists, ranchers, sportsmen and other residents is encouraged by the letter.

"This is a huge action taken on behalf of the Thompson Divide Coalition," she said.
Members of the Thompson Divide Coalition, along with Newman and other leaders in Pitkin County, have also been bending the ears of Reps. Scott Tipton, R-Colo., and Diana DeGette, D-Colo. Tipton, whose environmental record has been blasted by conservation groups, is a key player in the discussion since he is the only one in the House who holds political jurisdiction over the affected area.
"There has been a real bipartisan effort to find a compromise," Stevens said. "Rep. Tipton has been incredible to work with and willing to listen to all sides."
It shouldn't take long for Salazar to get up to speed on the senators' letter. His brother, John, pledged to draft legislation to protect Thompson Divide but he lost his seat to Tipton before he ever did.
---

74 Comments on "Udall, Bennet look to rein in oil and gas drilling in Thompson Creek Divide area"