Loveland Ski Area set to open Friday
Loveland Ski Area will start operating Chair 1 at 9 a.m. on Friday, resort operators announced today.
"Warm weather delayed the start of snowmaking, but cold temperatures settled in and our snowmaking crew has done a great job making up for lost time," said Rob Goodell, director of business operations. "We still have some work to do, but the mountain looks great and we will have 18 inches of snow from tree-to-tree for skiers and riders on Friday morning."
Loveland will offer lift-served access to one top-to-bottom run. Snow riders will drop 1,000 vertical feet in a little over a mile via the Catwalk, Mambo and Homerun trails.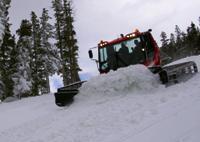 "When the cold temperatures settled in, we were able to make a lot of progress very quickly," said Eric Johnstone, snowmaking and trail maintenance manager. "We started last Thursday and have been running non-stop with the exception of a short stoppage on Tuesday. Our snowmaking crew has done a tremendous job and opening day skiers and riders are going to be very happy with the conditions."
Loveland will be the third Colorado ski area open for the season, following Wolf Creek last Saturday and Arapahoe Basin on Thursday (Oct. 13).
Loveland will be open 9 a.m. till 4 p.m. Monday through Friday and 8:30 a.m. until 4 p.m. on weekends and designated holidays. Early season lift tickets are $47 for adults and $22 for children ages 6-14.
Loveland season passes are now on sale and all Loveland season passes come with three free days at Monarch Mountain, three free days at Purgatory (does not apply to mid-week passes) and one free day of unguided skiing at Silverton Mountain.
Unrestricted 4-Paks are available online for $129 at www.skiloveland.com through Nov. 20.
---

110 Comments on "Loveland Ski Area set to open Friday"