Arapahoe Basin may open Friday
Loveland will open 'as soon as conditions permit'
"Rumors are always swirling around with the snow this time of year!" Loveland Ski Area's John Sellers said by email today, reacting to talk that Arapahoe Basin may open to skiing by the end of the week.
"We will try to open as soon as conditions permit regardless of what A-Basin or anyone else has done," Sellers added, referring to the fact that Wolf Creek Ski Area in southern Colorado already has won first-in-the-state honors. "As soon as we have an 18-inch base and tree-to-tree coverage on a top-to-bottom run, we will start turning the lifts."
Sellers also noted it was snowing lightly this afternoon at
Loveland
and that snowmaking operations have been going well
.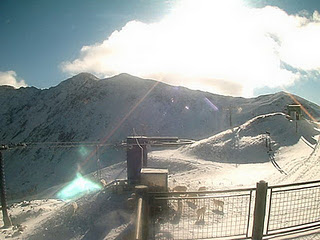 A-Basin spokeswoman Leigh Hierholzer also discounted the rumor mill.
"I always wonder who makes up these rumors when I have no idea and I work here!" Hierholzer said in an email this afternoon. "We have not decided yet. We will walk the trail tomorrow morning after the groomers have had a chance to play around with the snow."
A-Basin COO and Vice President Alan Henceroth
wrote in his blog
on Monday that the Summit County resort will be opening "soon."
"Looking really good. The coverage is almost there," Henceroth wrote. "We need to make a little bit more snow. Tuesday and Wednesday we will have the snowcats dozing and grooming the snow in preparation for opening. We have not announced an opening day, but it will be soon …. Hopefully we can make something happen this week."
Regardless of which resort opens next, they'll be second in state after
Wolf Creek
and likely fourth in North America after resorts in
Oregon and Nevada
beat Wolf Creek to the punch.
Vail
started
snowmaking at Golden Peak on Friday, but rain fell in the Vail Valley on Tuesday, and now
forecasters
are calling for five days of warm, dry weather until the next system on Sunday.
---

89 Comments on "Arapahoe Basin may open Friday"