Las Vegas ski area rolls dice, opens ahead of Wolf Creek
But Oregon's Timberline has had a lift running since September
Las Vegas is a famous destination to stay up late and gamble — not get up early and ski.
But on Saturday the unthinkable happened when the Las Vegas Ski & Snowboard Resort won bragging rights as the first ski resort to open in North America for the 2011-2012 season. At least that's what a
press release
from the resort is claiming and the
Associated Press
is reporting. In point of fact, a lift at Timberline in Oregon operates on a permanent snowfield in the summer and re-opened this fall, although the lift
does not
operate in the winter. Other lifts do run in the winter at Timberline, which is open year-round except for two weeks of maintenance in September.
Still, the resort that's just 30 miles away from Sin City flung open its lift lines at 7:30 a.m. Saturday, or roughly a half an hour before Wolf Creek Ski Area ushered in skiers and snowboarders in southern Colorado.
"It's very exciting that a ski area in Las Vegas is the first to open for the season," Kevin Stickelman, the resort's president, said in a press release. "We're undergoing a major expansion — a plan that was approved in July. This weekend was the perfect opportunity to share some of our recent improvements with our guests."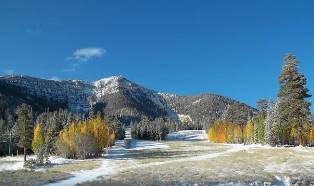 The Las Vegas Ski & Snowboard Resort served up snow about a foot deep. Nine of those inches fell from clouds in the sky and another four inches were the result of about 400,000 gallons of water the resort blasted out of its snow-making pond.
There was a lot more snow at Wolf Creek.
Nearly four feet of fresh powder graced Wolf Creek's slopes over the weekend. Skiers near and far made the pilgrimage to the resort near Pagosa Springs.
Wolf Creek is the first ski area in Colorado to open this season. It beat out perennial winners Loveland and Arapahoe Basin. This is also the earliest Wolf Creek has ever opened in its own history.
Last year Loveland opened on Oct. 24.
Late spring snow pushed the 2010-2011 season in the record books as nearly a dozen U.S. ski areas were open for Fourth of July. The industry recorded 60.54 million visits nationwide, edging out the previous record of 60.5 million.
Arapahoe Basin was among those open on the Fourth of July meaning the lift-served skiing offerings in Colorado only hibernated for about three months. "At this rate, Colorado is practically a year-round ski destination," cracked Colorado Ski Country USA President and CEO Melanie Mills.
Wolf Creek has planned weekend skiing for the foreseeable future. Until the snow really starts to fly, it could be some time before the 2011-2012 season gets under way in earnest.
In the meantime, snow guns are "at full throttle" over at Arapahoe Basin and Loveland, which expect to make their season debuts soon.
Vail has started snow-making operations at Golden Peak in anticipation of hosting U.S. Ski Team training Nov. 1. Vail opens to the public Nov. 18.
Aspen Mountain and Snowmass are scheduled to open Nov. 24. Buttermilk and Aspen Highlands open Dec. 10.
And what about the ski country around Las Vegas?
Well, last weekend's event may have been a bit of a mirage.
Unless there are more storms, the Las Vegas ski resort isn't scheduled to re-open for the season until Nov. 25.
"It's rare for this region to receive snow so early, so we felt it was important to offer our season pass holders and guests a chance to come together, celebrate and get excited about the season," Stickelman said.
---

84 Comments on "Las Vegas ski area rolls dice, opens ahead of Wolf Creek"