Vail starts snowmaking at Golden Peak; Arapahoe Basin reports 70 percent of snow needed to open
Vail has started snowmaking operations at Golden Peak in anticipation of opening for U.S. Ski Team training Nov. 1. The mountain doesn't open to the public until Nov. 18.
But snow riders may soon be able to make turns at either Arapahoe Basin or Loveland, as snowmaking operations at both resorts to the east of Vail continue "at full throttle" in the wake of recent natural snowfall and much colder overnight temperatures.
"We have not decided on an opening day yet, but 'I PROMISE' that as soon as we know we will spread the word," A-Basin COO and Vice President Alan Henceroth said on his
blog
Sunday. "There are no secrets here; we just have to let Mother Nature and snowmaking play their cards. We will open as soon as we can."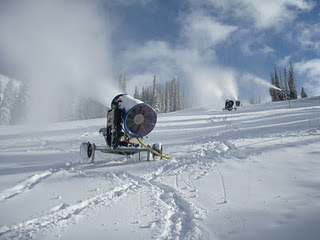 A-Basin and Loveland typically battle to be the first ski area in the state to open, but Wolf Creek Ski Area
beat them
to the punch Saturday after nearly four feet of natural snow fell on the retro resort in southern Colorado.
Copper Mountain, which hosts U.S. Ski Team speed event (downhill and super-G) training starting Nov. 1 and opens to the public Nov. 4, also has cranked up its snow guns. Keystone, which also opens Nov. 4, will fire up its snow guns next week.
Asked about snowmaking at Beaver Creek, spokeswoman Jen Brown said, "Not quite yet. Temps are looking a little warm this week." But she added crews are standing by.
Vail took advantage of cool weekend temperatures to get snowmaking started at Golden Peak.
"Our crews started making snow Friday evening," Vail spokeswoman Liz Biebl said. "While there's no way of predicting the weather and temperatures, we've been able to get Golden Peak up and running for early-season training in about three to five days in previous years, so we should have plenty of time right now."
Ski and Snowboard Club Vail
lists
a Nov. 1 start for "Gold Peak Fall Training Arena Operations" on its website. U.S. Ski Team Olympic gold medalists such as Lindsey Vonn, Ted Ligety and Bode Miller in the past have used the facility for technical event training – slalom and giant slalom –before the mountain opened to the public.
A-Basin's Henceroth says the ski area is in good shape after recent snowfall.
"Although I did not get an exact measurement, I think we got about 8 inches of new snow [over the weekend]," he wrote. "In terms of snowmaking, we have made 60-70 percent of the snow required to open. The forecast looks good for snowmaking Sunday, Monday, and Tuesday nights. We will keep a close eye on that."
---

86 Comments on "Vail starts snowmaking at Golden Peak; Arapahoe Basin reports 70 percent of snow needed to open"