Udall pushes hard for ski area bill, touts outdoor recreation economy in speech on Senate floor
Nature is the lifeblood of Colorado's economy, Mark Udall said in a speech on the Senate floor Tuesday, as he urged his colleagues to protect lands in the San Juan Mountains and pass his ski area summer recreation bill.
"When we talk about natural resources, we aren't just talking about beautiful landscapes and future generations," the senator said. "There are incredibly important economic benefits to preserving and protecting these lands."
Public lands are critical drivers for rural economies across the nation, he said, citing a 2006 study that found biking, hiking, hunting, and other outdoor recreation activities add $730 billion annually to the U.S. economy.
"Perhaps even more important – this is an area of our economy that continues to grow," said Udall, a Democrat. "It has grown by more than 6 percent just in 2011 – and it has outpaced U.S. economic growth more generally."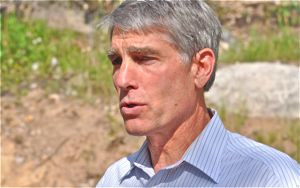 The potential for the outdoors to aid the nation's economic recovery is a factor behind a bill that would allow the Forest Service to permit certain activities in ski areas when the snow has melted, which the House unanimously passed on Monday. Udall is sponsoring companion legislation in the Senate, an effort he's undertaken for years.
The senator went on to advocate for the San Juan Mountains Wilderness Act, which he and Sen. Michael Bennet reintroduced last week. The bill would designate 33,000 acres in southwestern Colorado as wilderness, 22,000 acres for special management and withdraw over 6,000 from mineral entry within the Naturita Canyon.
The San Juan Mountains Wilderness act was first introduced in 2009 by former U.S. Rep. John Salazar, who built a broad coalition of support from most of the stakeholders in the region. Still, the bill never passed.
Salazar's successor, U.S. Rep. Scott Tipton, hasn't taken a position on the proposal yet. Tipton solicited opinions and information about the plan at a hearing Friday that had to be moved from Ridgway to Ouray to accommodate intense local interest. Even then, not everyone with something to say had the chance to be heard.
"The meeting was attended by 400 people, the fire marshal had to stop letting in people," Jim Buske, chairman of the Ouray County Republicans, told The Colorado Independent. "The mood was very civil. Rep. Tipton did not let on about his stance either way. He was sympathetic to all points, and listened intently to everyone."
Buske, who rallied opponents of the bill to attend the hearing, said many Ouray Republicans are against the expansion of wilderness because they fear it would limit economic opportunities, particularly new mining.
"I was proud of the fact that miners and folks against the expansion got to have their say, and were listened to after years by the Dems pushing this forward," Buske said.
Backers of the bill — including county commissioners in San Miguel, San Juan and Ouray counties — point out that no motorized roads or trails would be closed and that no mines or patented mining claims would be shut down.
The Ouray County commissioners praised the work already put into the San Juan Mountains Wilderness Act in a letter of support: "Recreation and other uses of the public lands of Ouray County are a vital part of the local economy" and the "preservation of these public lands as designated Wilderness would better protect their scenic, environmental, economic, and recreational values in perpetuity from the adverse effects of future development."
In his speech on the Senate floor, Udall lamented that partisan gridlock is putting the brakes on American progress.
"Between all of the benefits – clean air and water, recreation, and economic growth – one would think that Congress could find a way to work together and enact common-sense public lands legislation, like my San Juan Wilderness bill. But I'm frustrated that this Congress hasn't recognized that," the senator said.
Udall, who enjoyed a long career as a high-altitude mountain climber before becoming a legislator, noted that his experiences in the outdoors prepared him for the bitter winds that sometimes whip through the halls of Congress.
"In 1992, I was on the south face of Denali. We were 10 days into what was supposed to be a seven-day climb. We were out of food. The only way to get down was to literally go up and over the top of the mountain," he said. "But the lesson I learned in the 20 below temperatures and high winds is that when you're faced with a challenge like that — when the only way home is working together to accomplish the impossible — you find a way to make it happen. In some ways, I feel like that is the choice Congress has to make today. We can either work together to find a way up and over the summit – passing legislation that will create jobs, fix our budget problems and start working on the problems that Americans face every day. Or we can keep fighting each other, starving the country of the leadership that Congress must provide."
---

116 Comments on "Udall pushes hard for ski area bill, touts outdoor recreation economy in speech on Senate floor"