Shell move into Colorado natural gas stirs regulatory debate from north to south
For decades, Royal Dutch Shell – Europe's largest energy company – has been known in Colorado as the king of oil shale research, spending an estimated $200 million on an experimental and controversial extraction process that has yet to be proven commercially viable.
But Shell and its American subsidiaries have increasingly been moving into natural gas drilling in the United States, including a well permit pulled in southern Colorado that has touched off a firestorm of debate over state versus local control of drilling operations and just how much public input should be allowed.
The company also acquired natural gas leases in northwestern Colorado when it purchased Pennsylvania-based East Resources for $4.7 billion last year – a move Shell CEO Peter Voser said fit with company plans to "grow and upgrade" its shale gas holdings in North America. Because while oil shale remains years if not decades away from viability, shale gas is quite lucrative right now.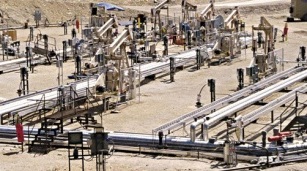 "We do have additional leasehold in northwest Colorado – Moffat and Routt counties, specifically," Shell's Kelly op de Weegh told the Colorado Independent. "We're still in an early phase of development and have not yet begun drilling operations. We are currently upgrading the existing field facilities to Shell's stringent safety and operational standards."
Those standards are precisely what citizen advocates in Colorado's Huerfano County (CHC) are concerned about. A group called Citizens for Huerfano County filed a lawsuit in July seeking to vacate a state permit issued to Shell Western Exploration and Production to drill and hydraulically fracture a natural gas well in the area.
The group argues both the county commissioners and the state did not properly inform them of the Colorado Oil and Gas Conservation Commission (COGCC) permit or allow public input.
"CHC members are infuriated that neither the COGCC nor the county commissioners think they have any obligation to inform the public or to allow them any meaningful role in the permitting process -- even though it is the residents of Huerfano County who will be dealing with well impacts," CHC attorney Julie Kreutzer said in a press release.
Shell's op de Weegh did not directly address the litigation in southern Colorado, but did acknowledge the company's operations there.
"We do have leasehold in Huerfano County for future natural gas operations," op de Weegh said. "Much like our project in the northwest, it is also in a very early stage. We are not currently drilling in Huerfano County."
The COGCC, which has ultimate regulatory authority over oil and gas drilling in Colorado, informed both Huerfano County and CHC members that, "based upon this review, we determined that the permitted well and location will not result in significant adverse impacts to public health, safety, or welfare or the environment."
But in July the COGCC admitted that it "regrettably" failed to properly inform county officials (pdf) of Shell's application or the state review in May. COGCC in July suspended Shell's permit for 20 days to allow the county to comment, but the county commissioners opted not to do so, making the permit once again valid in August.
The dispute again raises the thorny issue of local control over oil and gas drilling, which typically is almost exclusively under the purview of state regulatory officials. However, Garfield County in the past has looked into exercising county 1041 powers, which have previously been reserved for regulating large infrastructure projects such as utility lines or water storage or diversion facilities.
CHC recently hosted a talk by Josh Joswick, a former three-term La Plata County commissioner who's now the oil and gas issues organizer with San Juan Citizens Alliance in southwestern Colorado.
Joswick previously told the Colorado Independent that La Plata County in the early 1990s also explored using 1041 powers to locally regulate oil and gas drilling but instead opted to write and approve its own set of oil and gas regulations. Those rules were challenged by the state and the industry but ultimately upheld by the Colorado Supreme Court.
Also in heavily drilled Garfield County, citizen groups have asked the county to use land-use powers to increase setbacks so that gas rigs can't be erected too close to homes, schools and other public buildings. Such a move could ultimately land in court if state officials don't feel greater setbacks are necessary.
Leslie Robinson, a citizen activist in Garfield County who for years has followed the local-versus-state control and public input issue, says the entire system is badly broken.
"It's a travesty that citizens have to sue to get equal representation before a government entity like the COGCC -- isn't there something like the Declaration of Independence that gives citizens equal rights?" Robinson said. "However, when it comes to oil-and-gas issues and the state of Colorado, citizens are less than second-class because we get no voice at all at these hearings and there is no recourse."
CHC also is protesting a Nov. 10 U.S. Bureau of Land Management lease sale in Denver, which would offer up 8,000 acres of federal lands in Huerfano County for oil and gas drilling.
---

213 Comments on "Shell move into Colorado natural gas stirs regulatory debate from north to south"