Obama touts jobs plan in Denver, but press pass shows Wyoming as final fundraising stop
President Barack Obama today pushed hard for his $477 billion jobs plan in a blistering speech in Denver that reportedly saw audience members passing out from heat exhaustion after waiting out in the hot Colorado sun.
Speaking at Denver's Abraham Lincoln High School this afternoon in the final stop on a western campaign fundraising and jobs swing, Obama hammered home his message that Congress needs to act now on his package of stimulus spending and tax hikes on corporations and the wealthiest Americans.
"This is about priorities," Obama said, according to a Denver Post transcript. "This is about choices. If we want to pay for this jobs plan, and close this deficit, and invest in our future, the money has to come from somewhere. Would you rather keep tax loopholes for oil companies? Or do you want construction workers to have a job rebuilding our schools and roads and bridges? Would you rather keep tax breaks for millionaires and billionaires? Or do you want to put teachers back to work, and help small businesses, and cut taxes for middle-class families?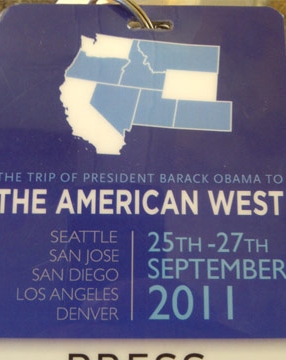 "It is time to build an economy that creates good, middle-class jobs in this country. It's time to build an economy that honors the values of hard work and responsibility. It's time to build an economy that lasts. Denver, that starts now."
But based on the press passes doled out for the event, it wasn't clear Denver would be Obama's final stop. As CNN pointed out today, the press credential map shows California, Washington and Wyoming highlighted in white, with Seattle, San Jose, San Diego, Los Angeles and Denver listed as stops to raise campaign funds and tout the jobs plan.
Problem is, Wyoming wasn't actually on the agenda and likely wouldn't be the friendliest of places to make his pitch for saving the economy. Swing-state Colorado, where Obama accepted the nomination to run for president in 2008 and in 2009 announced his massive stimulus package, makes a lot more sense as a stopover.
Whatever geographically challenged staffer produced the credential confusing the two rectangular states stacked on top of each other near the middle of the country probably wasn't aware of the cross-border animosity.
Wyoming residents call Coloradans "greenies," an allusion to Colorado license plates, and in many cases resent both the larger number of people who live in Colorado as well as Coloradans' more politically progressive outlook on life.
Wyoming residents are particularly testy these days as Colorado officials eye a huge water grab that would pipe precious H2O out of southwestern Wyoming and spray it all over lawns up and down Colorado's Front Range.
But if you're inside the Beltway, anything west of the Mississippi and short of the Left Coast is one of those square states.
---

341 Comments on "Obama touts jobs plan in Denver, but press pass shows Wyoming as final fundraising stop"