Youth Foundation's KidSTRONG program improves health of Eagle County kids
Over the course of the past four years, nearly 1,500 kids throughout Eagle County have traded in the couch and remote control for a healthier lifestyle, thanks in part to the VVF Youth Foundation's KidSTRONG (Kids Stronger Through Recreational Opportunities and Nutritional Guidance) Program.
Hosted in conjunction with the Colorado Health Foundation, the program provides students in the Youth Foundation's early childhood and PwrHrs afterschool programs with engaging activities that combine physical activity with fundamental nutritional knowledge. Each KidSTRONG session is paired with a nourishing snack and a lesson plan taught by trained staff, coaches, teachers and volunteers.
"We are very excited to report that in the last year, we have experienced significant improvements in health and a reduction in obesity among our most at-risk population," explained Susie Davis, Vice President of Education for the Vail Valley Foundation. "The KidSTRONG program ensures that our children have access to healthy opportunities to help them be successful in school and in life."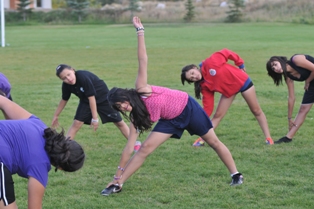 According to the Colorado Child Health Survey, Eagle County has seen a substantial decrease in child obesity since the KidSTRONG program was introduced in 2009, with participants receiving a minimum of two hours of moderate to vigorous physical activity per week. In addition to a healthier lifestyle, results also include improvement in grades and school engagement.
Furthermore, of the families that participate in KidSTRONG, nearly all reported that their children do not have an alternative or affordable opportunity to engage in physical activity outside of school.
Recently, the Youth Foundation has been recognized by various national organizations and universities for the youth development work accomplished through the KidSTRONG initiative, including accolades from the University of Texas, Boston University, Schools for the 21st Century at Yale University and the El Pomar Foundation.
The KidSTONG curriculum is also recognized as a best practice and replicated by other sports-based youth development organizations, including Play Rugby USA and Up2US.
For more information on the KidSTRONG program, contact Maggie Jackson at (970) 748-5992 or visit www.theyouthfoundation.org. The Youth Foundation is the educational arm of the Vail Valley Foundation.
---

1 Comment on "Youth Foundation's KidSTRONG program improves health of Eagle County kids"