Vail Symposium announces Navratilova as keynote speaker for inaugural Living at Your Peak event
Tennis legend Martina Navratilova will share her unparalleled health and fitness expertise as the keynote speaker at Living at Your Peak (www.livingatyourpeak.org), the Rocky Mountain region's premier interactive wellness experience, the Vail Symposium announced Thursday.
The inaugural event, to be held September 13-15, 2012, in Vail, Colo., is the nation's only gathering designed to help health-conscious individuals and influencers discover how to live longer, better and impact the wellbeing of their world.
"You don't need to be an elite athlete to be dedicated to wellness; anyone – at any age – can make a commitment to be fit and healthy," said Navratilova. "As AARP's Health and Fitness Ambassador, I have dedicated my time to helping those of us who are 50+ learn to lead healthy, active lives, and I am thrilled to be part of an event that is focused on teaching everyone health, fitness and longevity – from elite athletes to weekend warriors to individuals just beginning their journey to wellness."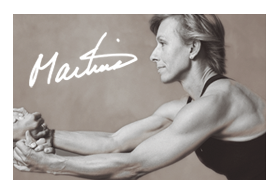 Navratilova is widely considered to be the greatest women's tennis player in the history of the sport. Over the course of a career that spanned an amazing four decades, she amassed an unmatched number of professional records. She won 59 grand slam titles, including a record nine Wimbledon singles championships. Still in phenomenal shape on the verge of 50, she became the oldest player to ever win a grand slam title before retiring in 2006.
In addition to her work on the tennis court, Navratilova is a compelling advocate for active living and aggressive goal setting. Her book, Shape Your Self, is a guide to personal fitness and healthy living. She has motivated thousands to live healthier lifestyles by taking simple steps to a better life. She also serves as the health and fitness ambassador for AARP, in an alliance created to help AARP's millions of members lead active, healthy lives.
"Martina Navratilova is not only a legend in the tennis world, she is also an inspiration to anyone with a commitment to lifelong wellness," said Jamie Stone, Living at Your Peak event champion and a board member of the Vail Symposium. "Her presence at Living at Your Peak elevates this event to the next level, enabling our guests to have a once-in-a-lifetime opportunity to interact with a world-class health and fitness expert."
Living at Your Peak is an interactive health, fitness and longevity experience offering unparalleled access to accomplished world champions; internationally recognized trainers, coaches, researchers and doctors; top chefs, nutritionists and world-class restaurants; and peer networking opportunities. Living at Your Peak sessions will offer interactive components to engage guests beyond a traditional presentation environment. Jenna Wolfe, co-anchor of NBC News' Sunday TODAY show, will emcee the event.
Registration is $1,000 until June 30 and $1,200 beginning July 1, and includes priority access to event sessions, event coordination with a personal concierge, exclusive access to VIP events and gourmet meals prepared by Vail's internationally renowned chefs. Spouse passes are $300 and individual session fees start at $50 per session.
The event is organized by the Vail Symposium, a grassroots, non-profit organization providing thought-provoking, diverse and affordable educational programs to the Vail Valley community. Event sponsors include Vail Valley Medical Center, HealthONE, the Town of Vail, The Steadman Clinic, Vail Summit Orthopedics, Triumph Development, the Vail Daily, Antlers at Vail, Vitality Center, Udi's Gluten Free Foods, The Biegler Foundation, Colorado Access and Wendy and Paul Raether.
For more information about Living at Your Peak or to register, please visit www.livingatyourpeak.org.

---

10 Comments on "Vail Symposium announces Navratilova as keynote speaker for inaugural Living at Your Peak event"