A-Basin, Loveland still serving up sick snow
Loveland and Arapahoe Basin soaked in some sick late-season powder Wednesday and Thursday, recording a foot or more of cold, fresh snow over a two-day period.
"So far, spring looks a lot like winter up at the Basin!" A-Basin spokeswoman Adrienne Saia Isaac wrote in an email blast on Thursday. "We received 11 inches of new snow in the past 48 hours, and it's surprisingly light and fluffy snow for May. The skiing has been awesome this week, and we're hoping to keep this trend rolling through the month."
A-Basin stays open until June 2, while Loveland is wrapping up the season on Sunday, May 5.
Currently, A-Basin has 100 percent of its terrain open, including the East Wall hike-to terrain, Montezuma Bowl and the Pallavicini runs.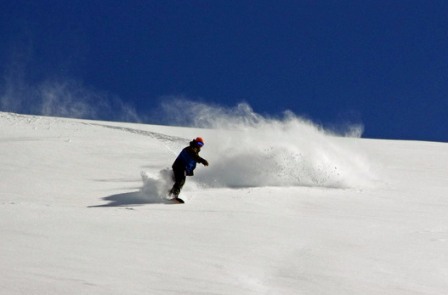 On Saturday, May 4, A-Basin will host its annual Huck, Rock & Roll Terrain Park Competition and kick off its May Concert Series with Crazy Otto for the "Cuatro de Mayo Fiesta" at the base area – aka "The Beach."
Go to the arapahoebasin.com website for more information.
Loveland also has a full slate of music and festivities scheduled for its closing weekend May 4-5. The ski area high atop the Continental Divide along Interstate 70 was enjoying a foot of fresh on Thursday, and the temperatures stayed cold enough to keep conditions surprisingly good late into the day.
"It was a bit thick in a few places … but don't let this fool you into thinking it wasn't a full-on powder day, because it was," wrote meteorologist Joel Gratz of Opensnow.com. "The skiing (riding) was fantastic and I was glad to see so many people ditch work on a Thursday and enjoy what is likely the last big pow day of the season.
"I know I said that last week, but seriously, I mean it this time. The next few days look pretty dry, and we'll see more moisture later next week."
---

1 Comment on "A-Basin, Loveland still serving up sick snow"