Vermont's Kasper shakes off virus, nearly climbs on podium in Birds of Prey slalom
Nolan Kasper, of Warren, Vt., fought through a nasty virus that hospitalized him on Tuesday to finish fourth in a men's World Cup slalom on the Birds of Prey course at Beaver Creek today.
It was Kasper's first complete race since undergoing hip surgery in September and returning to snow in Vail on Nov. 1. Reigning World Cup overall champion Ivica Kostelic, of Croatia, captured the race, just .14 in front of Italian Cristian Deville.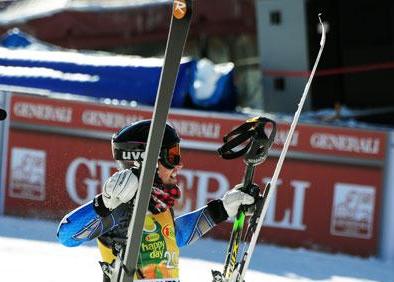 "It's race day and you've got to bring it," Kasper said of his recent illness. "You can't think about being sick or being hurt. You just have to muster up some energy and go."
Today's race was a makeup for a slalom cancelled in Val d'Isere, France, because of a lack of snow.
"Everyone goes through injuries," Kasper added. "It sucks and it's something you have to work through. I just had to deal with it, work incredibly hard and try and get as healthy as possible for whenever I could get back. Luckily, Levi (Finland) was canceled and Val d'Isere was moved here, so it was a good first race back."
Ted Ligety, of Park City, Utah, was 13th, and Bode Miller, of Franconia, N.H., was 27th.
"What Nolan did was impressive," Ligety said. "I mean, he was hooked up to an IV a few days ago because he was so dehydrated. To even finish in the top 30 would have been a good result considering how sick he is. The fact that he was almost on the podium tells you a lot about how determined he is."
The race closed out six days of men's and women's ski racing in Beaver Creek that saw Miller win the downhill, Ligety win a giant slalom and take second in another, and Vail's own Lindsey Vonn win the first ever women's super-G in Beaver Creek.
"It was an awesome two weeks in Beaver Creek," Ligety said. "I feel like I missed a good opportunity in the super-G, but winning the giant slalom on Tuesday was awesome, and I was pretty happy with the way I skied in today's slalom.
"If it wasn't for that small mistake on the bottom, it would have been a different race. You can feel good about how you're training, but you never really know until race day."
Miller is happy with his form at this stage of the season despite his result today.
"I made a mistake at the bottom of the Abyss, and it's uphill right there," Miller said. "That's not the kind of place you want to make a mistake, but I'm pretty happy with the way I'm skiing and my fitness is in the right place. All in all, I'm feeling pretty good."
---

1 Comment on "Vermont's Kasper shakes off virus, nearly climbs on podium in Birds of Prey slalom"