Ever Vail clears first major hurdle as council approves master plan changes
The proposed billion-dollar, green-built Ever Vail ski village cleared an important first hurdle Tuesday night when the Vail Town Council voted 6-1 to approve necessary amendments to the Lionshead Redevelopment Master Plan.
The project, first proposed by Vail Resorts in 2006, would be built to the west of the Lionshead Mall area on land currently occupied by a ski company maintenance yard and a strip mall. It would include a new hotel, gondola, specialty grocery store, live music venue and 1,500 new parking spaces – 700 of which would be public.
After nearly three and a half years in the regulatory process, Tuesday's vote was the first official action taken by the town council on the project. Five more applications still must be approved by a new council that will be seated after Vail's Nov. 8 election.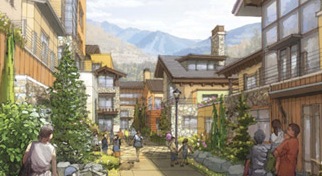 Vail Resorts officials have made it clear the real estate market needs to improve dramatically for the company to actually start construction. The project was first proposed during the heyday of Vail's multi-billion-dollar redevelopment boom, which saw new hotels and residential complexes such as the Four Seasons, Solaris and the Ritz-Carlton come online.
Sales at those projects have gone slowly since the global economic collapse in late 2008.
The amended Lionshead master plan will serve as a guiding document during the approval process moving forward on Ever Vail, which is being touted as a possible catalyst for a redevelopment revival in Vail.
Town council member Kevin Foley voted against the amendments, citing a need for a more definitive commitment to an underpass connecting North Frontage Road and South Frontage Road near Simba Run. Vail Resorts has committed to realigning South Frontage Road to create room for Ever Vail.
---

61 Comments on "Ever Vail clears first major hurdle as council approves master plan changes"